At Miro Training Centre we specialize in Heavy Vehicle Driving Instruction. You can feel comfortable knowing the course is nationally recognized and will equip you with the skills to become a heavy vehicle driving instructor. We service North and South of the river regions.
WA Government approved Certificate IV in Transport & Logistics
(Road Transport Heavy Vehicle Driving Instruction TLI41318)
The certificate IV in Transport & Logistics (Road Transport Heavy Vehicle Driving Instruction TLI41318) is the current qualification required by the WA Department of Transport in lieu of the practical and theory assessment required as part of the driver instructor licence application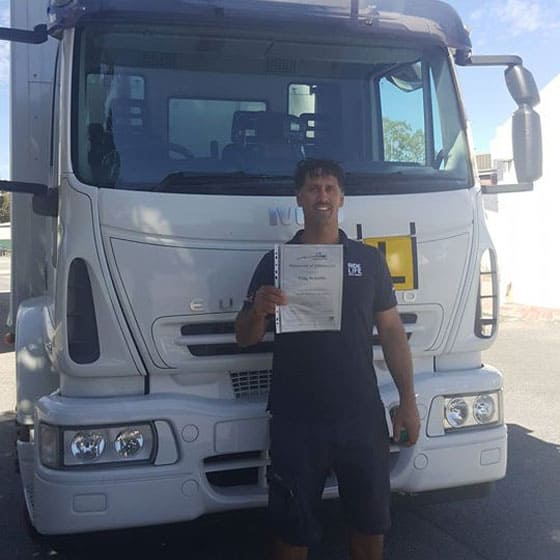 Course Framework
1 – 2-week intensive practical and theoretical session
3 major assignments
Instructional sessions
Practical Experience
Working with a qualified heavy vehicle driving instructor, this course will teach you the fundamentals of taking your car driving instruction to the next level. Through both theoretical and practical sessions, this course will provide training on how to use the DOT Practical Driver Assessment form, in order for you to be able to prepare your students for assessment. Be prepared to put in extra hours at home during the course, as there will be homework most evenings.
During the course, you will be given instruction in how people learn, and use Bloom's Taxonomy to differentiate between learning styles. We will give you tips on working
within the industry, insurance costs, how to teach using dual controls and the cost to fit, your OH&S requirements, heavy vehicle road laws and requirements.
Course Specifics
Courses are held on a regular basis throughout the year, with a new course starting on average every 2 weeks. This certificate is a competency based course and therefore the course duration is student based learning and is run until competency is achieved. The course has 4 theory days interspersed with 2 practical days followed by a practical assessment day. With prior arrangement courses can be scheduled out of normal working hours, but this will generally be for groups of three or more people, and higher fees may apply.
Assessments
For certification in heavy vehicle instruction, at the end of the course you will need to complete 3 assignments. At Miro Training Centre, we encourage you to complete these within 2 – 3 weeks of finishing the course. We will assist you along the way, and if you are having any difficulties, we encourage you to approach us for help.
Units of Competency
At the end of the course you will receive a statement of attainment for the following units
| | |
| --- | --- |
| BSBRKG304 | Maintain business records |
| TLIC3037 | Apply safe heavy vehicle driving behaviours |
| TLIF1001 | Follow occupational health & safety procedures |
| TLIF2010 | Apply fatigue management strategieses |
| TLIF4066 | Implement and supervise transport regulations compliance systems |
| TLIL2060 | Complete induction to the transport industry |
| TLII1002 | Apply customer service skills |
| TLIC4006 | Drive multi combination vehicle |
| TAEDES401 | Design and develop learning programs |
| TAEDEL301 | Provide work skill instruction |
| TLIM4002 | Develop safe heavy vehicle driving behaviours in others |
| TLIM0002 | Conduct heavy vehicle learner driver training |
| TLIL4009 | Manage personal work priorities and professional development |
| TLIG2007 | Work in a Socially Diverse Environment |